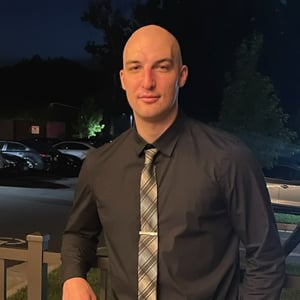 If you have ever had the pleasure of getting great data from a DBC probe or array, it is likely that Nick Watkins had a hand in it. For the last four years, Nick has served as our Director of Operations here at DBC. He started working for our CTO and Founder, Brian Jamieson, from a random assignment to shadow a company at work for a day while still in high school. Brian tells the story of how he assigned Nick a project to research and present on by the end of the day. While his friends were enjoying a relaxing day off school, Nick was researching. Brian remembers that Nick nailed it.
Nick began working part-time for us soon after that. He started sweeping floors and tackling any projects that were thrown at him. When he went to college to get his Engineering degree, he worked several summers for DBC.
When he started full-time with DBC, Nick put together our inventory management system. Along the way he learned micro-assembly and final packaging of our probes. Soon after that he mastered the clean room and our nanofabrication process, and now manages all aspects of our supply chain and manufacturing planning. He takes it all in stride. Thanks Nick!
Connect With Nick!